Pattaya People, Oct 13, 2009
Pattaya, Thailand -- A merit making ceremony was held at Tungklon Talman Temple on the afternoon of the 11th October when Mr. Scott Tanner was ordained into the Buddhist monkhood.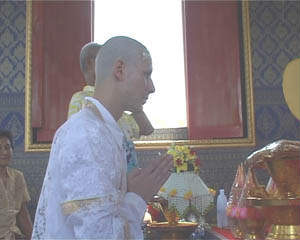 Mr. Maurice Tanner from Texas, where Scott spent most of his early days, and Thai mother Mrs Chammian Tanner, were both in attendance to watch their son being ordained.
Many close friend and relatives turned up to take part in the ceremony held at the temple and later at the Tanner's residence for a special lunch put on for the occasion.